The Alfa Romeo 147 is a small family car produced by Italian automaker Alfa Romeo from 2000 to 2010. The 147 was voted European Car of the Year for 2001, beating the Ford Mondeo and the Toyota Prius.
The 147 was launched at the 2000 Turin Motor Show as a replacement for the 145 / 146 hatchbacks, and is based on the running gear of the larger 156 saloon. It was available with 1.6, 2.0, and 3.2-litre petrol engines and a 1.9-litre diesel engine.
The model was in production for ten years, making it one of the oldest small family cars on sale in Europe at the time of its replacement by the Alfa Romeo Giulietta in late May 2010.
Appearances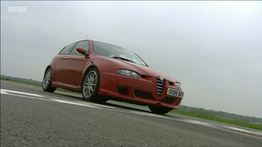 The Alfa Romeo 147 GTA was featured in Season 2 Episode 8 of Top Gear where it set a lap time of 1.35.6 around the Top Gear test track. An Autodelta tuned version with a 328bhp tuned 3.7 litre engine was also sent around the track in Season 4 Episode 2 where it set a time of 1.30, Hammond also attempted to drive it whilst hypnotised by Paul McKenna.