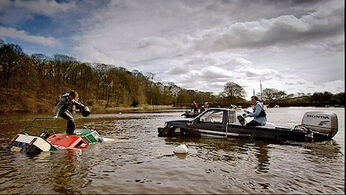 The presenters were set the challenge of building amphibious cars, and using them to get to, and then across a two-mile-wide reservoir.
Richard's propeller broke off on entry to the water, and lacking effective waterproofing, the van quickly sank. Jeremy, with passenger Richard, capsized at the pontoon finish line. James managed to sail across the reservoir, but slowly, and had to take an alternate route when on land due to a "low bridge." James was voted the winner by the studio audience.
It aired as part of Series 8, Episode 3.
See Also