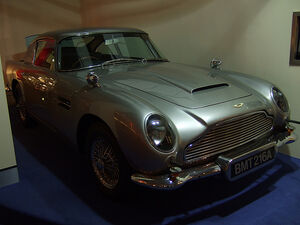 The Aston Martin DB5 was a Luxurious Grand Tourer made famous in the James Bond film Goldfinger.
It was an evolution of the DB4, having an enlarged 3995cc engine (enlarged from 3700cc), a new gearbox and carburettors. It had a power output of 282bhp, around the same power output as a mid-range sports car or a few 'hot hatchbacks', a supposed 0-60 time of 7.1 seconds and a claimed top speed of 145 mph.
"In the 60s, the DB5 was the car to have. Handsome and sophisticated, if you were rich you would almost certainly drive one of these. Today it's no different. Many collectors still desire an original DB5 for its outstanding elegance and the undeniable fact that it is one of the all-time great classic cars. Not to mention, the DB5 was the first James Bond Aston Martin. Ignore the fact that your car is slower than a Honda Accord, if you drive slowly everyone can admire your car.
However, if you do want to go faster you can go along to an Aston specialist and have your DB5 modernised so that it is faster, safer and more reliable. The one drawback is that it will make it more expensive than an Aston Martin DBS. But the DB5 is still better."
The Power Lap
The Stig drove a completely original DB5 round the track and, fantastic as it was, it set a new record - for the slowest car ever, only managing 1m 46s. This has since been broken by the Porsche 'Pain au Chocolat' i.e. the pedal powered Porsche which did a lap time in 18:37, but was completed by Richard Hammond, not the Stig.
Years produced: 1963-65
Number produced:1,023
Engine: In-line 6
0-62 mph: 7.1 seconds
Power: 282 bhp
Max. speed: 145 mph
Gadgets: There are no airbags, no anti-lock brakes, no proper seatbelts. It was a case of style before health and safety back in the 60s.
Cool Factor
While this model was made famous in Goldfinger, it also features in other James Bond films including Thunderball, GoldenEye, Tomorrow Never Dies, Casino Royale, Skyfall and Spectre.
James Bond's DB5 came with a bulletproof shield, machine guns, a tire shredder and its famous ejector seat, which launched an unruly passenger. It also came with revolving number plates, which was a personal idea of Goldfinger director Guy Hamilton. Hamilton, who also directed Diamonds Are Forever, Live and Let Die and The Man with the Golden Gun, came up with the idea because he was getting so many parking tickets at the time and thought it would be a way to evade detection.
The DB5 was the first choice of Bond's car in the Goldfinger film because he drove a DB3 in the Ian Fleming novel of the same name. Fleming had chosen a DB3 after a suggestion from a Bond fan named Dr. G. Gibson.

Despite this, Aston Martin was loth to lend one to the Goldfinger crew, who alternately considered a Jaguar, a Jensen and a Chevrolet before Aston Martin relented and lent them a secondhand development car. While a DB5 cost £4,500 at the time Goldfinger was filmed and released, it cost a further £25,000 to gadgetize.
When Richard hosted Fifty Years of Bond Cars - Top Gear's look at James Bond motoring history - he got to drive the DB5 that was featured in Skyfall. The DB5 also was one of the centerpiece cars of the special, with only the Lotus Esprit S1 that doubled as a sub from The Spy Who Loved Me rivaling it for screen time. Among the first segments of the film are spotlights on how the DB5 was chosen as a Bond car and outfitted accordingly.