Bentley Arnage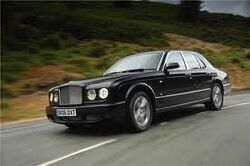 The Bentley Arnage is a large luxury car produced by Bentley Motors in Crewe, England from 1998 to 2009. The Arnage, and its Rolls-Royce-branded sibling, the Silver Seraph, were introduced in the Spring of 1998, and were the first entirely new designs for the two marques since 1980.
Another break from the past was to be found under the bonnet, for decades home to the same 6.75 litre V8 engine, a powerplant which could trace its roots back to the 1950s. The new Arnage was to be powered by a BMW V8 engine, with Cosworth-engineered twin-turbo installation, and the Seraph was to employ a BMW V12 engine.
The Arnage is over 5 metres (197 in) long, 1.9 metres (75 in) wide, and has a kerb weight of more than 2.5 metric tonnes. For a brief period it was the most powerful and fastest four-door sedan on the market.
In September 2008, Bentley announced that production of the model would cease during 2009.