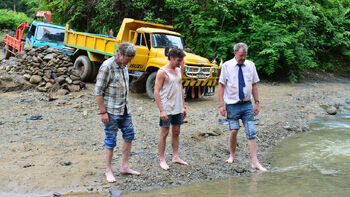 The
Burma Special
was a two-part special episode of the BBC motoring show
Top Gear
which saw the three presenters using a trio of derelict lorries to travel across Burma, also known by its modern name of Myanmar, to Thailand in order to construct a
bridge over the River Kwai
, in reference to the 1957 movie starring Alec Guinness. The special aired as the penultimate and final episode in Top Gear's 
twenty-first series
, on the 9th of March, 2014 and the 16th of March, 2014 respectively. The special aired in two parts like 2013's 
Africa Special
which preceded it, and 2014's later
Patagonia Special
, which succeeded it. The combined runtime of both episodes is 125 minutes, or 2 hours and 5 minutes.
The Burma Special faced controversy after its airing when viewers complained that Jeremy and Richard made racist remarks in the second part of the episode by referring simultaneously to the gradient on their bridge and a local Thai man crossing it.
Vehicles Edit
| Truck | Make/Model | Driver |
| --- | --- | --- |
| | Isuzu TX | Jeremy Clarkson |
| | Isuzu TX | Richard Hammond |
| | Hino FB110 | James May |
The first part of the Burma Special aired on the 9th of March, 2014. It was the 168th episode overall.
The second part of the Burma Special aired on the 16th of March, 2014. It was the 169th episode overall.
At some point during the bridge building in Part 2, when Richard says 'Spiky things', his watch is on his right wrist while the bandage was on his left. This may have been a mirrored shot.
Series 21, Episode 7 was the first and only time in Series 21 that viewing figures broke 7 million, and it was a feat that would be achieved two final times during the show's successive Patagonia Special.
The Burma Special is the fourth Top Gear special to be filmed in an Asian country, after Vietnam in the Vietnam Special, India in the India Special, and Iraq, Turkey, Syria, Jordan, and Israel in the Middle East Special.
The Burma Special was followed by the Patagonia Special which means that four special episodes of Top Gear aired consecutively in 2014.
Airing of the show courted controversy when Hammond and Clarkson made racist remarks about Thai people.