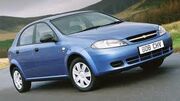 The Chevrolet Lacetti was the new Reasonably Priced Car after the old Suzuki Liana.
Best Moments
The Lacetti very nearly set an indoor speed record at the ExCel Centre in the London Docklands before they tried it with a Toyota F1 car. Some guests said it was the best or worst car they had ever driven. The fastest celeb to drive the little Lacetti was Jamiroquai singer Jay Kay with a time of 1.45.8. The new Lacetti was even more powerful than the old Liana. The slowest person was comedian Jimmy Carr who spun off on a timed lap! He ended up with a bitterly disappointing time of 2.08.9. The Lacetti was given a hero's funeral when it was crushed underneath some industrial chimnies being demolished by Richard Hammond. It was replaced by the Kia Cee'd and the crushed remains now sit proudly in the World of Top Gear at the National Motor Museum, Beaulieu, Hampshire.
However, another almost identical Lacetti was later seen briefly at the Top Gear Technology Centre before Jeremy was looking through contemporary cars' technology in preparation for building Rover James next to the Renault Avantime they modified to (unsuccessfully) beat the lap time of a Mitsubishi EVO.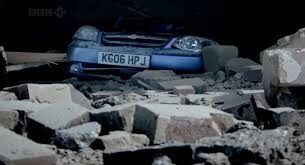 Lap Time Leaderboard
Gordon Ramsay - 1:46.3
Trevor Eve - 1:47.0
Les Ferdinand - 1:47.4
Well-spoken man (James Hewitt) - 1:47.6
Jamie Oliver - 1:47.7 (Snow)
Ewan McGregor - 1:48.0
Justin Hawkins - 1:48.4
Michael Gambon / Alan Davis - 1:50.3
Steve Coogan - 1:50.9 (H)
Ray Winstone - 1:51.4 (H)
Philip Glenister - 1:54.3 (W)
Rick Wakeman - 1:55.3
Brian Cox - 2:01
Jimmy Carr - 2:08.9