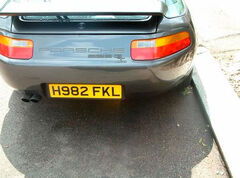 'H982 FKL' was the registration number of the Porsche 928 GT that Jeremy Clarkson drove from Bariloche to Ushuaia during Top Gear's Patagonia Special. The plate has since become infamous for its triggering of a series of violent demonstrations by local Argentinians against the production crew of the show whilst filming an episode in October of 2014. The plate was believed to be a deliberate reference to the Falklands War, an armed conflict between the United Kingdom and Argentina which began in 1982 when Argentinian forces invaded the islands.
The violence which ensued caused the crew to abandon their shoot early, cutting their trip short by a couple of days in which they planned to film the originally planned finale to the Patagonia Special. As the crew fled to the Chilean border, locals gathered at the town of Tolhuin and threw eggs, stones, and pick-axes at the convoy as they retreated. The crew abandoned the three star vehicles; a Lotus Espirit, Ford Mustang Mach 1, and the Porsche 928 outside of the town and were forced to head off-road to the Chilean border, eventually crossing over safely into the neutral territory.
Debate still continues today as to whether or not the team were aware of and perhaps intentionally chose the Porsche 928 in question because of the plate's possible interpretation. It has since been verified, however, that the registration 'H982 FKL' has been associated with the Porsche 928 that was used during the shoot since the day the car was manufactured. The last verifiable information about the plate and the car was that they resided in a police lock-up in Tierra del Fuego.
The BBC had attempted to formally recover all three of the presenter's vehicles since the incident, though the cars were never released. According to Argentinian sources, at an unknown date in 2017, the cars were "shredded and compacted to nut sized shapes" and it is believed there is nothing left of the cars. This information was leaked to the press in 2019, two years after the event had supposedly occurred, and no photos were allowed to be taken by any of the onlookers who were allegedly present.
Community content is available under
CC-BY-SA
unless otherwise noted.