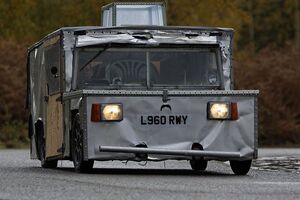 "You can't improve on perfection." - Jeremy Clarkson
The Hammerhead Eagle i-Thrust (among other names) is the second electric car that Jeremy Clarkson, James May and Richard Hammond made in the Electric Car Challenge. It was built with the intention of making a decent electric car, not just an overpriced car that's about as attractive as a baboon's bottom. The only problem with being the best looking electric car is that it would have to be better looking than the Tesla, which most would argue it is not. The Hammerhead Eagle i-Thrust had no problems in the price department but was designed by Jeremy and described by Top Trumps as looking like a 'slow-moving outside lavatory'. Its predecessor was named Geoff. This time, it was armed with more batteries and a diesel generator to recharge said batteries. While the car was still slow, it was considerably faster than Geoff and in a drag race it easily beat a cyclist, a runner and a G-Wiz. The exterior was still the same, but with a sprung "push bar" in the front, for protection during crashes. Richard put on narrow tyres from a Citroën 2CV to reduce friction. The generator that James installed would often fill the car with exhaust gases. This would eventually kill one of The Stig's cousins, Janet Stig-Porter. In a wind tunnel, the car was so aerodynamically poor that it slid across the test area and we are told that it crashed into the fans at one end.
It travelled to Goodwood for the Festival of Speed 2010.
At the end of the 'testing' of the car, Stig dropped it off at the Autocar H.Q. for their view. The car was badly criticised for having bad braking, handling and the worst car design ever. It did, however, get one half-star better than the G-Wiz.
It now sits proudly on display at World of Top Gear, National Motor Museum, Beaulieu.
Statistics
Reviewed by Autocar
Top speed - 15.4 miles/hour
0 - 60 - Never
Price - £6,000
Power - 3.37 bhp 19-battery 96-volt DC electric motor
Backup 12-gallon 16-volt diesel generator
Roadholding - -5.8 g's
70/30 weight distribution
Kills the stig's cousin
Community content is available under
CC-BY-SA
unless otherwise noted.