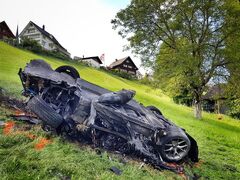 On the 10th of June, 2017, while filming for an episode of the second series of the Amazon Prime motoring show The Grand Tour, presenter Richard Hammond was involved in an accident while participating in a hill-climb event in Switzerland. Hammond was driving a Rimac Concept One supercar at the time. Unlike his Vampire Dragster crash a few years earlier, Hammond remained conscious during and after the accident. It was Hammond's second reported accident while filming for The Grand Tour, following a motorcycle accident in Mozambique.
Accident
On his fourth and final run of the hill-climb trail in St. Gallen, Switzerland, Hammond approached a corner carrying far too much speed to adequately brake his vehicle, causing the rear tyres of the Rimac to lose traction and slide the car off the track. The Rimac broke through a barrier on the corner and rolled over several times as it careened down the hill. It eventually came to a rest, upside-down, near the bottom. Hammond remained conscious during the accident and told first responders not to pull him out of the wreckage by his feet, as he thought he had broken his leg. Shortly after Hammond was removed from the Rimac, the wreckage burst into flames.
Aftermath
Hammond was immediately air-lifted (onboard an Agusta-Westland AW109 HB-ZRZ) to the St. Gallen hospital, where doctors assessed that he had fractured his knee and required a brace. Hammond remained in hospital for six days, before leaving on the 16th of June, 2017 on a jet bound for his home in the U.K. Hammond was able to drive again on the 12th of August, 2017, a little over two months after his accident.
Organisers of the hill-climb event in Switzerland were fined five-thousand dollars and the event's director and three stewards were suspended for six months for being in violation of international FIA rules and regulations.
Footage of the incident made its way to YouTube on the day of his accident. This footage aired as part of The Grand Tour's second season premiere. Though the production crew themselves were unable to capture footage, as Hammond crashed past the hill-climb's finishing line, audio from Hammond's onboard cameras, which were destroyed in the accident, was collected. This audio was dubbed over the YouTube footage for the episode. The Grand Tour team did, however, filmed much of the aftermath, including footage of the Rimac's burning wreckage and Hammond himself being airlifted to hospital.
Legacy
Hammond's accident has been a consistent source of mockery in The Grand Tour's second and third season, with May and Clarkson mocking Hammond for not being able to drive, buying him Christmas presents such as velcro trousers and an upside-down toy car, and forcing him to compete in the race to Niagara Falls on crutches. For future episodes such as Motown Funk and Chinese Food for Thought, Hammond's crash was brought up several times over.