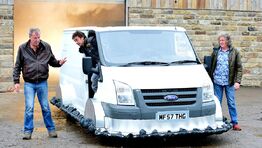 The
Hovervan
 was a creation of the the presenters of BBC's Top Gear that was featured in
series twenty
of the show. The presenters were tasked with creating the ultimate amphibious vehicle, one that can specifically survive a flood. The presenters base their design around that of a hovercraft, converting a
Ford Transit
van into one. The creation was featured in the
fourth episode of Top Gear's twentieth series
. The presenters were forced to create two versions of their machine after their initial design failed, testing their second design on the River Avon.
The Mark I was powered by 2 90-horsepower BMW motorcycle engines(alongside the original Ford Engine), producing 180 horsepower. A fan was fitted in the back for a thrust, and a small grass skirt made by James May was fitted below. However, their initial design failed because Jeremy took it very fast into the River, thus sinking the Hovervan. Jeremy blamed Richard's 90 horsepower engines, while James and Richard blamed Jeremy.
After the failure of their Mark I design the presenters had a rethink and came up with a new and improved design. Richard changed the engines powering the hovervan (now it's sourced from a Radical track day car) meaning that their creation was now being powered by 600 horsepower engine . James also added much bigger and tougher skirts and tubes which would prevent the vehicle from sinking. To test this new creation the presenters headed to the River Avon. After an initial another unsuccesful test with their creation, leading to the cracking of the windscreen of the van, the presenters recieved a challenge; they were to travel to Stratford-upon-Avon with the Mark II Hovervan.  
The Hovervan Mark II was better than the previous version, but was still beset with many different problems, including it still being difficult to control. The propeller was strong enough to send people sitting at tables flying, and showered water over boats and walkers. They rammed a rowing boat, and the man using it fell into the river. The presenters also complained about the heavy noise, both inside and outside. They also got stuck in a canal lock. Finally, the Hovervan approached a small weir, but managed to go down it without any trouble. Jeremy then tried taking the Hovervan back up through the weir, but only succeeded in blowing the van's engine.