"James" redirects here. For other uses see James (disambiguation).
James Daniel May was the British television presenter and award-winning journalist known for co-presenting Top Gear from 2003 until 2015 alongside co-stars Jeremy Clarkson and Richard Hammond, replacing Series 1 presenter Jason Dawe, and appearing in 175 of the 186 episodes produced during his tenure on the show. He had previously presented the show for Series 41 of the original format, replacing Clarkson, although was relegated to a print-only role from the second half of 1999 until his initial firing in late 2002. He also wrote a weekly column for The Daily Telegraph's motoring section.
On Top Gear, his nickname was "Captain Slow", due to his 'careful', relaxed driving style. He also earned the nickname "Captain Sense of Direction", due to the fact that he always gets lost, always gets distracted by an irrelevant subject and always arrives late. In spite of this, he remains one of the show's most popular presenters. May became one of the very few people in the world to have taken a Bugatti Veyron to its top speed of 253.45 mph (407.90 km/h), precisely one-third of the speed of sound at sea level, and would later hit 259 mph in a Bugatti Veyron Super Sport, both at Volkswagen's test facility at Ehra-Lessien. Due to perceived copyright restrictions, his nickname was modified to "Mr. Slowly" for the earlier series of Top Gear's spiritual successor, The Grand Tour.
May and Clarkson, together with an Icelandic support crew, were the first ever people to reach the 1996 Magnetic North Pole in an automobile (a modified Toyota Hilux). The expedition was broadcast in a Top Gear special on BBC Two on the 25th of July, 2007. Clarkson described May as being "the first person to go to the North Pole who didn't want to be there."
Backstory
James May was born in Bristol on the 16th of January, 1963 in a family of four children. He attended Caerleon Endowed Junior School in Newport, and spent his teenage years in South Yorkshire where he attended Oakwood Comprehensive School in Rotherham. He was also a choir boy at Whiston Parish Church. During the early 1980s, May worked as a sub-editor for The Engineer and Autocar magazines, the latter of which he was later sacked from.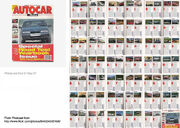 At the end of 1992, for Autocar's annual "Road Test Yearbook" supplement, May encoded a hidden message from each review's initial dropped cap. Each spread contained within the supplement featured four reviews and after being tasked with putting the supplement together, which "was extremely boring and took several months", he rewrote the first sentence of each review so that the first letters would spell "So, you think it's really good, yeah? You should try making the bloody thing up; it's a real pain in the arse."
He later wrote for several publications, including a regular column called 'England Made Me' in Car magazine, a post from which he was later fired from, as well as a weekly column in The Daily Telegraph. These were later compiled into a book titled May On Motors, which is a collection of his published articles, and co-authored Oz and James's Big Wine Adventure, based on the TV series of the same name.
He also wrote the afterword to Long Lane with Turnings, published in September 2006, the final book by renowned motoring writer L.J.K. Setright. In the same month he co-presented a tribute to Raymond Baxter. A second collection of May's articles, entitled Notes From The Hard Shoulder, was published on the 26th of April, 2007. James May's 20th Century, a book to accompany the television series of the same name, was published later that year on the 6th of September.
In August 2006, it was revealed that May had contributed to the online motoring humour magazine Sniff Petrol, founded by then-producer of the show Richard Porter.
Television Appearances and Career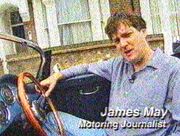 His past television credits include presenting The Car Show on Channel 5 in 1998, narrating an eight part BBC One series called Road Rage School, and co-hosting the ITV1 coverage of the 2006 London Boat Show.
He also wrote and presented a Christmas special called 'James May's Top Toys' for BBC One, where May explored the toys of his childhood. This list was followed up the next year by a sequel of sorts, broadcast on BBC Two, entitled 'James May: My Sister's Top Toys', this time attempting to investigate the gender divide of toy appeal. In late 2006, the BBC broadcast 'Oz and James's Big Wine Adventure', a series in which May, a committed bitter drinker, traveled around France with wine expert Oz Clarke. A second series was transmitted in late 2007, this time with May and Clark in the Californian wine country, and was followed by a third series in 2009 called 'Oz and James Drink to Britain'.
He has also presented a documentary for Sky about sharks called 'Inside Killer Sharks', and a series looking at inventions and discoveries during the twentieth century, entitled 'James May's 20th Century'.
In late 2008, the BBC broadcast 'James May's Big Ideas', a three-part series in which May traveled around the globe in search of implementations for concepts widely considered science fiction.
In June 2009 May presented a documentary on BBC Two called 'James May on the Moon', commemorating 40 years since man first landed on the moon. This was followed by another documentary on BBC Four called 'James May at the Edge of Space', where May was flown to the edge of space (70,000 ft) in a Lockheed U-2 spy plane. Highlights of the footage from the training for the flight, and the flight itself was used in 'James May on The Moon', but was shown fully in this program. This made him the highest flying person, along with the pilot, at that time, after the crew of the International Space Station.
In 2010, May was the host of a show named "James May's Toy Stories". In his new show he goes to small towns across Britain and tries to break toy related world records. In the first episodes for example he made a house out of 3 million Lego bricks.
Top Gear
James May was originally considered by producer Jon Bentley in the early 1990s, and shot a screen-test with a Caterham. However, despite Bentley's insistence on hiring him for the role, his superiors deemed him too similar to Jeremy Clarkson, in the sense that he was a 'posh sounding young bloke'. As a result, May wouldn't be hired by the show until Clarkson's sudden departure following the conclusion of Series 40 at the end of 1998.
He first co-presented Top Gear in 1999 for its 41st series, and was due to retain his role thereafter, but alongside Julia Bradbury, who he frequently presented with at the time, was replaced by Kate Humble from Series 42 onwards. May remained as an occasional writer for Top Gear Magazine from 2000 to 2002, and was briefly fired, before rejoining the show in 2003 for the second series of the relaunched format, where he earned the nickname "Captain Slow" owing to his "careful" driving style.
After reaching the North Pole in a modified Toyota Hilux alongside co-host Jeremy Clarkson, much to May's chagrin, Clarkson would remark that "[May] will be the first person at the North Pole who didn't want to be there". That same year, May would also be one of the first people to drive across the Makgadikgadi salt pans in Botswana. In Series 16 May accidentally fell and hit the back of his head on a rock whilst in a desert in Syria, during filming for the Middle East Special. He would be taken to hospital due to a bad concussion, leaving Hammond and Clarkson to continue their challenge alone, although at one point they received news that May was recovering well.
In 2015, May declined to renew his Top Gear contract with the BBC, quitting the show he had worked on since 2003 following lead presenter Clarkson's dismissal. Fellow presenter Richard Hammond also quit the show.
During his time as presenter, he coined the phrase 'Oh, cock!' which to some extent became his catchphrase.
Departure and legacy
With its production otherwise put in jeopardy, May would be the last of the 2002-era presenters to remain with the BBC in order to finish production on the second series of James May's Cars of the People, a six-part Top Gear spinoff.
He would sign a contract with Amazon in 2015 in order to star in spiritual successor The Grand Tour, a role he maintains as of 2020.
Community content is available under
CC-BY-SA
unless otherwise noted.