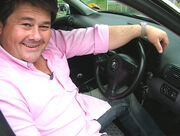 Jason Dawe was a presenter on the Top Gear television show on its first season after it was relaunched. His main part in the show was to present different bargains for used cars, as opposed to the super car reviews and entertaining motoring challenges, which were done by the two other presenters, Jeremy Clarkson and Richard Hammond. James May replaced Jason as the third presenter in Top Gear's second post-relaunch series.
Jason is a regular columnist in The Sunday Times motoring section. He also writes for many other motoring magazines and is a regular contributor to radio and TV shows as a motoring expert.
Jason now co-hosts the Used Car Roadshow with Penny Mallory, broadcast on ITV4 and Men & Motors.
External links
Edit