The lightweight Lotus Exige was the follow up the Elise, manufactured by the Norfolk-based sports car company Lotus.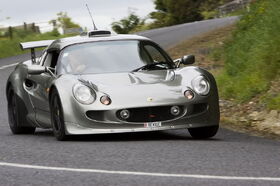 The series I Exige was launched in 2000 and had a 1.8 L Rover K Series engine
. It produced 177 bhp, or
192 bhp in track spec. It was produced for 2 years until 2002.
The series II Exige was launched in 2004 and had a Twin Cam 1.8L Toyota engine which was limited to 7800 rpm. It produced 190 bhp, 218 bhp in 'S' spec or 260 bhp in the Exige Cup 260. In the North American version, the Exige had 220hp. It was produced for 7 years until 2011.
The 2012 Lotus Exige V6 has a 3.5L V6 derived from the Toyota Camry and the Lotus Evora. it develops 345bhp, 85bhp more than the previous most powerful Exige, the Cup 260, but also weighs about 150 kg more. It was designed to be very slightly less track focused than the previous Exige, is longer, wider, more practical, and has more features as standard to sell better in different markets, especially the North American market. It is also designed to be slightly more luxurious, having a more spacious, more comfortable interior. It will apparently be produced for approximately between 3-6 years, until the supposed next generation of Lotuses, reviving historic names will be launched.