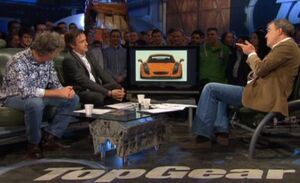 In the second episode of Top Gear's sixteenth series, the presenting trio of Jeremy Clarkson, Richard Hammond, and James May came under fire after comments they made about Mexicans during The News. Though the UK Broadcast Regulator, Ofcam, later cleared the programme of breaching any broadcasting rules, the footage was removed from subsequent broadcasts of the episode.
Incident
During the weekly News segment of the second episode of the sixteenth series of the show, May introduced a story that a Mexican sports-car, the Mastretta MXT, was being produced. This prompted the presenters to launch into a series of comments regarding Mexican people, culture, and food, culminating in a comment about the Mexican Ambassador to the United Kingdom.
After introducing the MXT as "The Tortilla", the trio mocked Mexican food as "refried sick", Mexican people as "lazy, feckless, flatulent oaf(s)", and described in detail how horrible it must be to be "[wake] up and [remember] you're Mexican". Clarkson rounded off the remarks by suggesting that the Mexican Ambassador to the United Kingdom would be too lazy to make a complaint.
Reaction
Eduardo Medina Mora, the Ambassador to the United Kingdom for Mexico, wrote a formal complaint to the BBC shortly after the airing of the episode, calling the comments "outrageous, vulgar, and inexcusable". The BBC responded by apologising to Mora for the comments directed at him personally, but defended the jokes about Mexican stereotypes. Clarkson later visited Mora in-person to apologise.
Legacy
The incident became one of the show's more well-known controversies and was referenced many times in future episodes. In the eighteenth series' India Special, Hammond 'accidentally' painted the Mexican flag on his car while attempting to recreate India's flag. In the nineteenth series, the team staged a race to the Mexican border during a road-trip in the United States, with the loser having to cross into the country to conduct a review of the Mastretta MXT. The eventual loser, Hammond, completed his review in that same series.
Footage
As footage of the incident was removed from all future broadcasts of the episode, the segment can now only be found online.
Community content is available under
CC-BY-SA
unless otherwise noted.