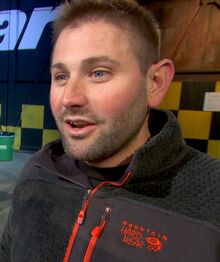 Oisín Tymon is a producer and former assistant producer and production co-ordinator for the BBC motoring show Top Gear.In March of 2015 he found himself at the centre of controversy after being assaulted by Jeremy Clarkson after a day of filming in North Yorkshire, an event for which he is most notable. The BBC has confirmed that Tymon will continue working on the show in the future when it is renewed for a twenty-third series.
Work on Top Gear
Tymon began his work on Top Gear as a production co-ordinator before being promoted to an assistant producer and then to a producer at the beginning of series twenty-one. Tymon has also appeared in some web-based video exclusives for Top Gear, such as a behind-the-scenes video on the May's trip to Afghanistan in the second episode of series twenty-one and the Saint Petersburg race in the first episode of series twenty-two, the latter of which has since been deleted following the media's extensive use of stills from the video for news articles.
Role in Clarkson's Dismissal
On 4 March 2015, Tymon was assaulted by Clarkson after a day of filming in Hawes, North Yorkshire. Tymon had been in charge of catering for the shoot and had been unable to organise hot food for the presenters at the hotel they were booked to stay at as the kitchen had closed by the time of their arrival. Clarkson, irritated by this news, began verbally abusing Tymon before launching a thirty second 'unprovoked' assault on the producer, which was broken up by James May and Richard Hammond. Tymon's lip burst during the assault and he drove himself to a nearby hospital for medical attention.
Tymon refused to report the incident to the BBC and the corporation was unaware of the incident until Clarkson admitted to the assault on 10 March 2015 after being pressured by other senior members on the Top Gear production team. Clarkson was immediately suspended by the BBC and was dismissed fifteen days later on 25 March 2015 by the BBC's director-general Tony Hall.
Following Clarkson's dismissal the North Yorkshire Police Department began to investigate the incident. On 27 March 2015, it was revealed that Oisín Tymon had decided not to press charges against Clarkson.
Community content is available under
CC-BY-SA
unless otherwise noted.