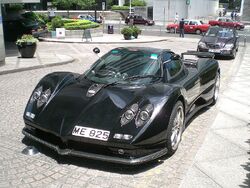 The Pagani Zonda is a mid-engined sports car produced by Pagani in Italy. It debuted in 1999 and continues through the present, with production proceeding at roughly 25 cars per year. As of April, 2008, 91 Zondas had been built. Both 2-seat coupe and convertible versions have been produced. Construction is mainly of carbon fiber.
Some early Zonda engineering was done by Formula One champion, Juan Manuel Fangio. The car was originally to be named for him, the "Fangio F1", but the name was changed upon his death in 1995, renamed after an air current above Argentina.
Technical Specifications
Pagani Zonda F
Production date
2005-present

Body Style(s)
2-door convertible

Layout
mid-engine
Engine(s)
7.3 L AMG V12
Transmission(s)
6-speed manual
Wheelbase
2728 mm
Dimensions
l:4435mm w:2055mm h:1140mm
Curb weight
1230kg
A Pagani Zonda C12 S 7.3 was reviewed in the very first episode in the entire current series, Series 1, Episode 1, by Clarkson. He compared the it and Lamborghini Murciélago. He loved the Zonda and called it the king of supercars. In the power laps segment, The Zonda achieved a 1:23.8 around the track while the Murciélago had a 1:29.0, a considerably slower time.
In Series 5, Episode 2, Clarkson compared the two trios of supercars, the three older, and the three newer, the latter including the Pagani Zonda, along with the Porsche Carrera GT and Ferrari Enzo.
Series 5, Episode 4 featured the Pagani Zonda S Roadster, which Clarkson says Hammond fell in love with and that girls who came there showing their bare midriffs there were wasting their time.
Series 7, Episode 3 all three presenters took their favorite cars for a road trip, of which Hammond takes a Pagani Zonda S, and in Episode 4, the main review had been about the heavily revised Pagani Zonda F.