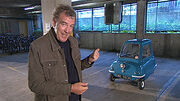 The
Peel P50
was a three-wheeled microcar manufactured in 1963 and 1964 by the Manx Peel Engineering Company on the Isle of Man, retailing for £199 when new and currently holds the record for the smallest-ever automobile to go into production. It was designed as a city car and was advertised as capable of seating "one adult and a shopping bag." The vehicle's only door was on its left side, and equipment included a single windscreen wiper, and only one headlight. Standard colours were Daytona White, Dragon Red, and Capri Blue. The prototype for this model was referred to as the Peel P55 Saloon Scooter having one front wheel and 2 rear wheels - the opposite way round from the production Peel P50.
Appearances
Edit
Series 2 - Episode 1 (mentioned)
Series 10 - Episode 3
Series 11 - Episode 3 (cameo inside the Top Gear Technology Centre)
Series 13 - Episode 1 (mentioned)
Series 19 - Episode 1
In Top Gear
Edit
Technical Specifications
Peel P50
Production date

1962-66 (100 produced)

Body Style(s)

One-door coupe

Layout

Rear engine, rear wheel drive

Engine(s)

DKW 49 cc, 4.5 hp, fan-cooled (61 km/h (38 mph) top speed)

Transmission(s)

3-speed manual, no reverse

Wheelbase

1270mm (50 inch)

Dimensions

l:134cm w:99cm h:120cm

Curb weight

59 kg
The Peel P50 was seen in Top Gear's Series 10, Episode 3, where Clarkson reviewed it to see whether it would be practical in daily life, highlighting its usefulness in office buildings. He knew of its usefulness in office buildings because he went to work in it. The car is small enough to be pulled into BBC White City, with the Top Gear team were more excited by the tiny Peel than by a Koenigsegg or a Ferrari. Clarkson, late for a meeting, decides to drive into BBC Television Centre from inside the White City office, sitting in the car throughout his journey and the meeting. To get there he drove through lifts, corridors and the BBC News Studios (this bit was a mistake). The segment features cameos of several BBC broadcasters including John Humphreys, who liked the car so much he nicked it, Fiona Bruce, who had to help Clarkson out of an elevator as there was no reverse gear and Dermot Murnaghan, who turned the car around on him as Clarkson left the meeting. At the end of the review, Clarkson even points out the 'Sports' version, a Peel Trident.
Peel Trident
Edit
The Peel Trident was the second microcar made by the Peel Engineering Company on the Isle of Man, first produced in 1965. This new model featured two seats or the option of one seat and a detachable shopping basket instead of the single seat of the previous Peel P50, though it retained a three-wheeled design. The car also had a clear bubble top. It has been described as "a terrestrial flying saucer".
The car is 72 in (183 cm) long and 42 in (107cm) wide, with a weight of 198 lb (90 kg). Like the P50, it uses a 49cc DKW engine, but has a greater top speed at 46 mph. It was advertised that the Trident got 100 miles to the (UK) gallon (35 km to the litre, 2.8 L/100 km), "almost cheaper than walking". The original retail price was £190
Peel P50 Statistics
Edit
Top Speed - 38 m.p.h.
Price - £199 (in 1963)
Power - 4.5 b.h.p.