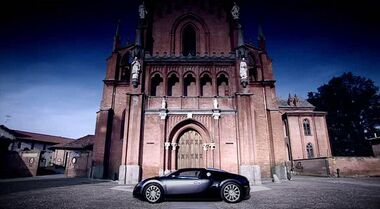 The Race to London formed the main challenge for Episode 5 of Series 7. This was the fourth big race of the series, following up from the Race to Oslo earlier in the year.
After doing the news segment, Jeremy Clarkson decides to ask the audience a question that has "occupied the minds of some of the greatest thinkers in the land"; what is the fastest way of getting a truffle from Northern Italy, where the subterranean fungus grows, to London. Of course, the way to find this out was by having a race between the trio. As was the case in all three races prior, Jeremy would be taking a car whereas the other two would be using some form of public transport.
However, James adds, this time around it will be slightly different, as during the off-season he has been learning to fly, and so the race will actually be Jeremy vs. "Captain Captain Slow and his Hammond hand luggage", the latter pair flying to the destination in May's Cessna 182. The race would start in Alba, a city which is just south of Turin, to a restaurant situated on top of the NatWest Tower in London.
The challenge starts by cutting to an elderly Italian farmer and his dog in the forest, who is hunting for a truffle. Whilst this was happening, Jeremy went to get his car; the £840,000 Bugatti Veyron.
Trivia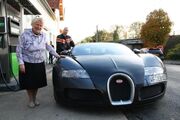 According to former Stig Ben Collins, the race was done "twice"; most exterior shots of the Bugatti were taken during the delivery of the Veyron from London to Italy, whereas the interior shots featuring Clarkson were done during the actual race.
The song used during the final part of the race is a stock track that was also used in the 2001 video game Robot Wars: Arenas of Destruction, a game based on a show which Jeremy Clarkson once hosted.