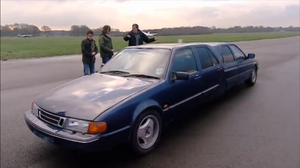 The Salfa Romeaab, also called as the Alfaab is a limousine designed by James May and constructed with a team of two men. The limo was featured in Series 9 Episode 6, as part of the limousine challenge. The Salfa Romeaab is made of two cars, the 1996 Saab 9000 CS V6 and an 1996 Alfa Romeo 164.
Design
According to James May, the Alfaab is 'sensible and Swedish' at one end, and 'fiery and Italian' at the other. The limo can be driven from both sides, thus making it easy to turn tight corners. The interior of the car included a sauna in the Saab, and a Sistine Chapel in the Alfa. The car also had a tiny fountain, wooden seats, 8 doors, but did not feature an intercom.
Testing
Before testing, the presenters took a ride in each of the limousines. While in the Alfaab, Jeremy Clarkson complained that he hadn't got much headroom due to the overhead sauna. Also, Richard had unlocked the Alfa's steering lock, making the car go out of control. To regain control, Richard managed to get into the Alfa's end, but the steering wheel came off, forcing the presenters to stop the car.
During the first test, where the challenge was to perform a J-Turn and evade a roadblock set up by the other presenters, James decided instead of doing a turn, he'd get to the Alfa's end and drive away, but before he could reach the Alfa end, he was shot by the other presenters using paintball guns. The Salfa got less hits, mainly because the others shot James instead of the car. The steering wheel in the Alfa end also came off as James drove away
During the second test, the Salfa hit two cars during the start, but successfully missed the stinger. In the final test, the presenters were asked to chauffeur celebrities to the Brit Awards, and James was given Lemar. Lemar felt bored inside the car, and James' conversation did not interest him. Lemar later furiously left the car after James repeatedly got lost in London and for making him an hour late to the awards.
Gallery