The first episode of the first series of Top Gear is the first episode of Modern format Top Gear following the show's relaunch in 2002, and aired on the 20th of October that year. It was presented by Jeremy Clarkson, Jason Dawe, Richard Hammond and The Black Stig. Harry Enfield was the show's first ever guest star. It marked the start of a new era for the previously-ailing format.
Officially, it was the 524th episode of Top Gear since Series 1 of the original format aired in 1978, and the 555th piece of video-based media released directly under the Top Gear name when one includes the 9 regional shows, all 5 prior home video releases, and all 17 specials not attached to a series.
A list of cars featured in this episode is available here. A list of quotes is available here.
Synopsis
"This is a car programme. There will be no cushions, there will be no ragrolling, no one will sing, and at the end of the series, no one will have a recording contract. This is our new base, and this is our purpose-built test track. There are no traffic jams here, apart from this one, and no bus lanes either. This is Top Gear!"
Tonight...
After 8 months off the air following a tumultuous period of low ratings and pending irrelevancy due to the advent of the Internet, Top Gear returned under a brand new format alongside long-time presenter Jeremy Clarkson, two new presenters in the form of Hammond and Dawe, a new studio, a test track and a live audience. In this very first installment of 2002-era Top Gear, Jeremy Clarkson looks at family hatchbacks for the cheapest new car on the road, and finds something avantgarde; the Citroën Berlingo Multispace. Later in the episode he puts two of the finest Italian supercars against each other, and Richard Hammond sees if it's possible to defeat a speed camera. Jason Dawe gives some car buying advice, and Harry Enfield takes the Liana on its first celebrity lap.
Segments
Citroën Berlingo Multispace Review
The series' very first segment begins with Jeremy reviewing the Citroën Berlingo Multispace, testing the car out as the-then cheapest new passenger vehicle on sale in Britain by taking it on the EuroStar back to its country of origin, and eventually praising it for, among many other things, its copious storage space, which would have been tested out by filling the Berlingo's storage with crates of alcohol purchased near Calais, but following a discussion with EastEnders business owner David West, it was revealed that cars suspected to be carrying too much alcohol would be crushed without prejudice, leading Clarkson to deposit a single bottle in the boot as a kneejerk preventative measure.
Ford GT40 Concept
Once back at the studio, Richard takes a look at the Ford GT40 Concept, which Ford are to put into production 2 years later. This includes a brief summary of why the original GT40 was created, and a display of the automated electronic parts created for the concept such as the rear engine cover, and the fuel filler cap. Hammond believes the car resembles its inspiration so much that he deems it an enlarged copy of the original.
The News
In the very first edition of The News, Jeremy and Richard discuss improvements to the road network, an estate version of the Fiat Stilo touted as the car to save the company, and low-budget roadsters in the forms of the Nissan Micra and Smart Roadster, before proceeding to argue over Formula 1's increased dependency on electronic aids, with a poorly photoshopped image of Michael Schumacher appearing to drive his F1 car in a panda suit in order to give the other drivers fair competition. The crowd agrees with the hosts that F1 needs to become about the drivers again.
Track Test
Jeremy then compared the Pagani Zonda C12 and Lamborghini Murciélago, to see which was better. Jeremy ponders if Volkswagen's acquisition of Lamborghini a handful of years prior would make its new halo car feel German and mechanical. Suffice to say, the Murciélago felt every bit as good as its predecessors and was far easier to drive, particularly in regards to shifting. It is through this segment that Jeremy then introduces The Stig, whose sole purpose is to post lap times around the Top Gear test track. The Zonda achieved a 1:23.8 around the track whilst the Murciélago had a 1:29.0.
Running cars on vegetable oil
After having shown viewers how to save money on a family hatchback and attempting to show them how to avoid speeding fines by going fast enough to fool a camera, Jeremy promises to show the biggest money-saving tip of all; running a diesel-powered car on vegetable oil. As of late 2002, this trend had grown to such an extent that supermarkets would ration the amount of oil it would sell each customer. A man named Jason Taylor has set up a table with some ingredients, including an additive he claims to make engines run better on the substance. Taylor cites that used cooking oil is better than unused, and mixes the liquid with a non-kerosene-based white spirit to act as a solvent. Supposedly, this costs just 29p a litre, and can run on any diesel-powered car without the need for conversion.
To put this theory to the test, Jeremy has bought a used Volvo 960 Turbo and drained it of all its fuel, with a member of the AA standing by to confirm that there is no trickery afoot and that the Volvo has no diesel in it whatsoever. The car is then filled up with the vegetable oil and started up, much to Jeremy's amazement, and driven around the airfield, with comparable mileage to diesel.
Mazda 6 Review
For his first road test of the show, Richard Hammond test-drove a Mazda 6, considered as Japan's attempt at a sports saloon, asking the question as to whether or not it was good enough to attract the type of consumer who would normally drive a BMW. He thought it handled well and was surprisingly exciting given the company's brand image but was ultimately inadequate in spite of being £700 cheaper than its Bavarian opposition.
Harry Enfield has a go in the Suzuki Liana for the first Star in a Reasonably Priced Car Segment. We are briefly told of Enfield's car history, having owned a Vauxhall Cavalier convertible, before watching his lap later on in the episode. He would set a time of 2 minutes, 1 second, failing to beat both The Stig and Jeremy, who had set times prior to the series commencing. It would also turn out to be the fourth all-time slowest lap in the Liana.
Car buying advice
With Enfield's lap out the way, Jeremy then sits on the front of a Mini alongside fellow presenter Jason Dawe for the purpose of discussing some very good deals for the car buyer of the era. They remark that the Mini One, which was sold brand new the year prior for £10,000, was now worth £10,500 used in addition to its soaring international popularity, particularly in the United States of America. Jason then mentions that due to the unpopularity of its front-end design that the outgoing Subaru Impreza is having £3,000 chopped off of its price tag. Finally, the Volvo XC90 is due to launch, but will only ship 3,500 units across its 220 UK-based dealers.
The Stig vs. a speed camera
Throughout the episode, The Stig was tasked with driving fast enough down a runway strip in order to be undetected by a speed camera. After failed attempts in a Honda Civic Type R at 129 MPH and a Mercedes-Benz CL55 AMG at 148 MPH, he succeeded in a TVR Tuscan S, breezing past at 170 MPH. Successful in its endeavour to cheat the camera, Jeremy then draws the first episode to a close by teasing the audience with what's going to happen next week; a double-decker bus attempting to jump over bikes.
Credits
Presented by


Jeremy Clarkson
Jason Dawe
Richard Hammond

Filming locations


recorded at [sic] - Dunsfold Park

Other roles


Outside Broadcast - BBC Resources
Engineering Manager - Steve Chapman

Studio crew


Camera Supervisor - Neil McLintock
Cameras -
James Ramsay
Phil Piotrowsky
Rob McDonald
Floor Manager - Nick Keene
Vision Mixer - Hilary Briegel
Lighting Director - Stuart Gain
Sound Supervisor - Keith Gunn
Design - Simon Kimmel

Film crew


Film Cameras -
John Couzens
Ben Joiner
Paul Kirkham
Casper Leaver
Rob MacDonald [sic]
Film Sound -
Kirsten Jones
Chris Lebert
Laurie Rose
Stuart MacDonald
Film Editors -
Dave Austin
Gavin Douglas
Film Directors -
Richard Heeley
Chris Hook
Simon Ludgate
Nigel Simkiss [sic]

Other film roles


Online Editor - Joe Orr
Dubbing Mixer - Dan Gable

Production crew


Production Team -
Liz Campbell
Rowland French
Michelle Julier
Bethanie Roser
Poppy Ross
Yonni Usiskin
James Wiseman
Script Supervisor - Richard Porter
Production Executive - Mel Hoffman
Production Manager - Jacqui Moore
Producers -
Maggi Gibson
Kate Shiers-Ghellere

Directors


Director - Brian Klein
Creative Director - Andy Batten-Foster
Note that the above list may be incomplete due to a lack of crediting, and does not necessarily mean that a particular crew member did not work on this episode. This list is taken from the visible end credits and does not rely on IMDb or any other source. Spelling mistakes are indicated with [sic].
End Card
Production
As the first episode of revised format Top Gear following the original version's cancellation in August 2001, Series 1, Episode 1 was tantamount to a pilot of sorts, with many different segments designed to attract various types of automotive enthusiasts. Much of the episode's filming occurred during September of 2002, as the Murciélago vs. Zonda road test was filmed on the 5th, the Suzuki Liana was registered on the 9th, and The Stig vs. a speed camera segment was filmed on the 12th.
According to Richard Porter's autobiography, the pilot episode of relaunched Top Gear went through multiple revisions before the finished version aired in October 2002. Notably, French footballer David Ginola was set to be the first episode's guest star, but didn't seem to understand the purpose of the segment and assumed he had been selected as a permanent presenter, leading to reshoots and Porter opting not to have Ginola around a second time.
The Renault Vel Satis review, which was eventually pushed back to Series 1, Episode 6, was part of this pilot shoot, along with members of the Renault Owner's Club in a set which differed from the bare hangar interior which eventually made it to air. This original set was comprised of a large steel cage separating the audience from the presenters, which can still be seen in this later episode during the inaugural Cool Wall segment.
This reshoot period took its toll on the presenters, with Richard Hammond almost quitting before the episode had even aired. Eventually, time ran out and most of the content filmed for both pilots was pushed back, with a new pilot filmed in September. It would be this third pilot which would make it to air.
Filming locations
Series 1, Episode 1 was filmed at the following locations:
M20 Motorway, England
Folkestone, England
Calais, France
Reception
Contemporary reviews seem polarised over the show's attempt to reinvent itself, with some praising Clarkson's revival and others not impressed, mainly due to the focus on supercars, which the show's previous incarnation tended to avoid. The episode holds a 7.2/10 rating on IMDb and an 8.8/10 rating on TV.com, although most of these scores appear to be retrospective and are not reflective of the era in which they were released.
Airing History
Series 1, Episode 1 originally aired on the 20th of October, 2002, on BBC Two. It was then regularly reshown on digital channels such as BBC Prime, UK Horizons and UKTV People through to at least June 2005, along with the rest of Series 1. On the 23rd of February 2008, it would air in Australia on SBS. 16 months later, the episode would air in Hungary. At some point after these latter re-runs, the episode was pulled from the BBC Worldwide sales catalogue. It would resurface in November 2019 as part of acquisitions made by Motortrend On Demand. As of the 13th September 2021, It was added to BBC IPlayer.
Ratings
ITV1: Heartbeat (10.51 million viewers)
BBC1: Monarch of the Glen (7.59 million viewers)
BBC2: Top Gear (2.43 million viewers)
Top Gear was not successful in its first week back on the air with just 2.43 million viewers, falling outside of BBC 2's Top 30 programmes for the week comprising the 14th - 20th October, 2002, and garnering the same amount of viewers as a 10 year old rerun of The Fresh Prince of Bel-Air. Of its timeslot, the show would finish a distant third behind ITV1's Heartbeat and BBC1's Monarch of the Glen, making up just 11.8% of the primetime audience (not including Channel 4, Channel 5 or any digital channel, with both of the former falling outside of their respective channels' Top 30, and the latter not being recorded at the time).
Viewing figures were lower than expected, and it seems apparent that the show's revival was not well-publicised, with not many news articles nor a cover story appearance in the Radio Times. Outside of its timeslot however, Top Gear managed to soundly defeat rival show Fifth Gear, which attracted just 1.15 million viewers at the beginning of the week.
Episode Names
Though never given a name upon its original airing, much like every other episode of Top Gear, a name was retroactively applied to the episode by the BBC years later; Top Gear's own website calls it "The one with Stig cheating a speed camera". Upon its inclusion to MotorTrend On Demand in November 2019, it was titled "The Legacy Begins...".
Home releases
As was the case for the first eight series of Top Gear, individual episodes were not available for purchase in box sets. Instead, footage from the episode was cut and placed into a compilation video, which was released twice:
In these releases, the Zonda/Murciélago comparison, Harry Enfield's lap and the speed camera challenge appeared in abridged forms, and all other segments were omitted.
Soundtrack
The following songs were used in this episode's soundtrack:
 ‣ Angel - Massive Attack [introduction]
 ‣ Jessica - Christian Henson [introduction]
 ‣ Ear Candy - Jason Creasey [Citroën Berlingo road test]
 ‣ Another Chance - Roger Sanchez [Pagani Zonda road test; removed from successive broadcasts]
 ‣ Castles in the Sky - Ian Van Dahl [Lamborghini Murciélago road test; removed from successive broadcasts]
 ‣ This Guy's in Love with You - Herb Alpert [Pagani Zonda Power Lap; removed from successive broadcasts]
 ‣ Bourani - Goste [Mazda 6 road test]

Altered soundtrack
After its initial airing, many licenced tracks were replaced with stock music, as most export countries do not share the same blanket licence that the BBC enjoys in the UK. The following are identified stock tracks or other alternative pieces of music used in these rebroadcasts.
 ‣ D-Code - Dust Devil [Mercedes-Benz CL55 AMG vs. speed camera]

Trivia
This is the first episode of the rebooted Top Gear.
The studio set is very unfinished, lacking its black aesthetic that it had for most of the series.
Around 30 people turned up at the set to attend the live studio segment; these can be physically counted through freeze-framing and are most likely people who worked on the show.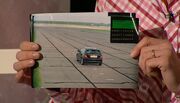 The speed camera segment was filmed on the 12th of September, 2002, just over a month before the episode aired. The Honda Civic Type-R was photographed at 14:46, whereas the Mercedes-Benz CL55 AMG was photographed at 15:31.
Two sole occurrences happen during Harry Enfield's SIARPC segment; the fact it's interrupted halfway through to move on to another segment, and an aerial shot being used throughout the final corners. Neither of these happen during the rest of the series.
Though Clarkson and Hammond were singling out Michael Schumacher for helping to make F1 as boring as the duo deemed it to be at the time, the picture of the car used was actually that of Rubens Barrichello, Schumacher's team-mate. Barrichello's car had a "2" on the nose cone, as opposed to Schumacher's, which bore a "1".
References
When Jeremy Clarkson remarks that he's "moving out of fifth gear... and into top gear" whilst driving the Zonda with a knowing look to the camera, he is throwing shade at Fifth Gear, the programme created by Channel 5 with a lot of the original cast and crew from the then-cancelled version of Top Gear.
External links
"Top Gear" Episode #1.1 - IMDb
Top Gear - Season 1, Episode 1 - TV.com