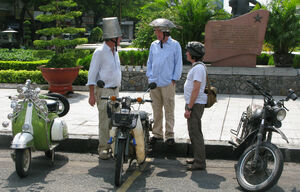 Specials, originally, were special episodes of Top Gear in which the three presenters at the time, Jeremy Clarkson, James May, and Richard Hammond, headed to an international location for a road trip. These specials differed from regular episodes in that they were longer than the standard sixty minute episodes; the Top Gear studio is only used at the beginning of the episodes and there are no power tests or SIARPC segments. Generally, these specials aired at Christmas time in every second series.
There were eleven specials over eight years, the first one being the Winter Olympics Special which aired in 2006. The last special, the Patagonia Special aired in 2014, as part of Top Gear's twenty-second series. Typically, the specials were one-off episodes but later the format changed - in the Africa, Burma, and Patagonia Specials, which were broadcast in two parts.
Special episodes were revived in the presenters' new show, The Grand Tour, with a two-part special set in Namibia, entitled The Beach (Buggy) Boys, having aired in late December 2016. A second special, set in Colombia, will air after the show's second season in mid-2018. In the meantime, a "mini-special", set in Mozambique, will air as the finale to the second series.  
Clarkson-era Top Gear Specials
The Grand Tour Specials