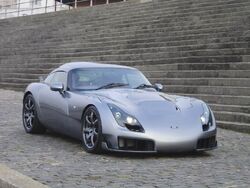 The TVR Sagaris is a sports car designed and built by the British manufacturer TVR in their factory in Lancashire.
The Sagaris made its debut at the MPH03 Auto Show in 2003. The pre-production model was then shown at the 2004 Birmingham Motorshow. In 2005 the production model was released for public sale at TVR dealerships around the world. Based on the TVR T350, the Sagaris was designed with endurance racing in mind. Several design features of the production model lend themselves to TVR's intentions to use the car for such racing. The multitude of air vents, intake openings and other features on the bodywork allow the car to be driven for extended periods of time on race tracks with no modifications required for cooling and ventilation. The final production model came with several variations from the pre-production show models e.g. the vents on the wings are filled in, different wing mirrors, location of the fuel filler and bonnet hinges. There are other subtle differences as well.
Community content is available under
CC-BY-SA
unless otherwise noted.