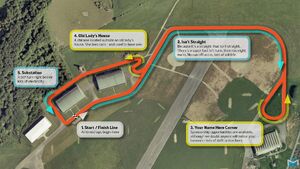 The Eboladrome is the test track used in The Grand Tour for most car reviews and all lap times. It is so named for its resemblance to the shape of the Ebola virus. It was introduced in the first series.
The track is located near Swindon in England, specifically at a disused British Royal Air Force airfield in Wroughton.
In the first series, Mike "The American" Skinner was the test drive who completed lap times around the Eboladrome. However, from the second series onwards, he was replaced by British racing driver Abbie Eaton. Lap times that are completed in wet, snowy, or damp conditions are marked as such on the lap board. In the show's premiere, nine times were already logged on the lap board, having been completed off-screen.
Track Landmarks
The Isn't Straight
The largest and longest part of the track, which is the first major and noteworthy part of the course. It is so-named because it is long and mostly straight, but not entirely straight. A complete lap requires driving along and then back this portion.
Your Name Here Corner
After finishing a run up the Isn't Straight, drivers enter the Your Name Here Corner, a sharp horse-shoe-like corner angling to the left. It is so-named because there are large banners placed around the corner that are available for sponsorship.
Old Lady's House
After going through Your Name Here Corner and completing a run back-along the Isn't Straight, drivers enter a tight and windy chicane. It is named after a house which is on the other side of the track's fence that is supposedly owned by an old lady.
Substation
After Old Lady's house there are two sharp left-hand turns to round out the course, so named after the obstacles that drivers will hit if they spin off. Substation is named a series of electric generators which sit just off the bend. Substation is the penultimate corner on the track.
Field of Sheep
The final section of the track is known as Field of Sheep, for the large flock of sheep that normally graze just off the bend. Both Substation and Field of Sheep are 90-degree left-hand turns. After finishing the Field of Sheep corner, and crossing the finish line, drivers have completed a lap.
Lap Times
The current lap-board for the Eboladrome is:
| Car | Time | Notes | Lapped |
| --- | --- | --- | --- |
| McLaren Senna | 1:12.9 | N/A | S3E1 |
| NIO EP9 | 1:15.0 | N/A | S3E6 |
| Aston Martin Vulcan | 1:15.5 | N/A | S1E2 |
| Lamborghini Huracán Performante | 1:16.8 | N/A | S2E7 |
| Ford GT | 1:17.6 | N/A | S2E8 |
| McLaren 650S | 1:17.9 | N/A | N/A |
| McLaren 720S | 1:17.9 | N/A | S2E4 |
| Mercedes-AMG GT R | 1:18.7 | N/A | S2E2 |
| Audi R8 V10 Plus | 1:19.2 | N/A | N/A |
| Jaguar XE Project 8 | 1:19.3 | N/A | S3E4 |
| Aston Martin V8 Vantage | 1:20.4 | N/A | S3E9 |
| BMW M5 | 1:20.4 | N/A | S3E7 |
| Porsche 911 GT3 RS | 1:20.4 | N/A | S1E4 |
| Nissan GTR | 1:21.2 | N/A | N/A |
| Porsche 911 C2S | 1:21.4 | N/A | N/A |
| Alpina B5 | 1:21.6 | N/A | S3E7 |
| MAT Stratos | 1:21.6 | N/A | S3E12 |
| BMW M4 GTS | 1:22.4 | N/A | S1E4 |
| Porsche 718 Boxter S | 1:23.4 | N/A | N/A |
| Alpine A110 | 1:23.7 | N/A | S3E5 |
| BMW M5 | 1:24.2 | N/A | N/A |
| BMW M3 | 1:24.3 | N/A | N/A |
| Honda NSX | 1:26.0 | Wet | S1E9 |
| BMW M2 | 1:26.2 | N/A | S1E1 |
| Delta Futurista | 1:26.8 | N/A | S3E12 |
| Alfa Romeo Giulia Quadrifoglio | 1:27.1 | Wet | S1E10 |
| Honda Civic Type R | 1:28.2 | N/A | N/A |
| Ford Focus RS | 1:28.4 | N/A | S1E6 |
| Lexus GSF | 1:29.6 | Damp | S1E12 |
| Ford Mustang | 1:29.6 | N/A | S1E6 |
| Tesla Model X | 1:29.6 | N/A | S2E10 |
| Ford Sierra Cosworth RS500 | 1:31.3 | N/A | S3E14 |
| Lamborghini Countach | 1:31.8 | Wet | S3E10 |
| Ford Fiesta ST200 | 1:32.8 | N/A | N/A |
| Bugatti EB110 | 1:32.8 | Wet | S2E9 |
| Abarth 124 Spider | 1:33.7 | Wet | S1E11 |
| Jaguar XJ220 | 1:35.1 | Wet | S2E9 |
| Ferrari Testarossa | 1:37.4 | Wet | S3E10 |
| Volkswagen Up! GTi | 1:39.7 | Wet | S2E5 |