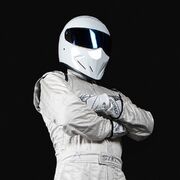 The Stig is an anonymous race car driver created by Jeremy Clarkson and Andy Wilman, who has featured in the British television series Top Gear since its relaunch in 2002. Currently, The Stig is in its third iteration, "born" in a similar location and means to Jesus Christ at the end of the Middle East Special where thereafter it quickly grew into an adult version of itself.
There were two versions of The Stig prior to this incarnation; the first, known as The Black Stig, was killed off in Series 3, Episode 1 after ex-Formula 1 driver Perry McCarthy was revealed to have violated non-disclosure agreements upon the publishing of his book, Flat Out, Flat Broke: Formula 1 the Hard Way!, which revealed his identity.
The second was a more familiar White Stig, and was portrayed by racing driver Ben Collins from 2003 until 2010, leaving the show after rising tensions between himself and the production crew of the show eventually resulted in the publishing of his autobiography, The Man in the White Suit, which revealed his identity to the world.
The Stig's name derived from presenter Jeremy Clarkson's days at Repton School; where, according to Clarkson, new students were always called "Stig". A proposed name for the Stig was originally "The Gimp", and would wear a racing outfit patterned after a leather bondage suit until protests from Perry McCarthy nixed the idea. There have been three official Stigs on the show, while various other "Stigs" have made cameo appearances.
Black Stig (First Stig)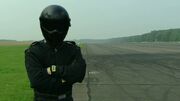 "Now we call this thing The Stig, okay, we don't know its name, we really don't know its name, no-one knows its name and we don't want to know because it's a racing driver and racing drivers have tiny little brains and therefore worthless opinions and they're very dull; doctors actually call it Mansell Syndrome. Um, its job is simply to go out there and drive fast."
- Jeremy Clarkson introducing The Stig in Series 1, Episode 1.
The show's first Stig wore an all-black outfit and was portrayed by Perry McCarthy, who would have two jobs; to drive fast cars around the Top Gear test track and to teach the guests stars how to drive the Suzuki Liana for their laps in the Star in a Reasonably-Priced Car segments.
This first Stig would be killed off at the beginning of Series 3 after driving the team's modified Jaguar XJ-S off the deck of the HMS Invincible. Only a single glove would be found.
In 2009, a low-budget viral video was produced by the BBC which revealed The Black Stig survived this ordeal, surfacing on an English beach after six years at sea and stealing a man's frisbee. Nothing has been heard of this Stig since.
First White Stig (Second Stig)
From Series 3, Episode 2, following a loving tribute to the original Stig, a new Stig was introduced, wearing a set of white overalls and helmet. Its role expanded beyond the Power Lap segment. Often this Stig was carted around (in some instances quite literally) with the trio of presenters for other purposes, including driving a Caterham Seven kit car from Caterham, Surrey to Knockhill racetrack in Scotland against the hosts assembling an identical car from the ground up.
In Series 10 The Stig was recruited to take public transport in the Cross London Race and had to deal with such tasks as riding a bus, using an Oyster Card and having to answer a mobile phone (but instead just stared at the ringing device). In Series 11, Episode 6 he was smuggled in to the Zandvoort racetrack in the Netherlands for the final deciding challenge against rival German show D Motor, after the driver intended for the challenge, James May, was bound and gagged inside a locker.
The White Stig also appeared outside Top Gear in some of Jeremy's motoring specials, such as Clarkson: The Good, The Bad, The Ugly where Jeremy used it to compare American and non-American cars, Clarkson: Heaven and Hell, where the Stig was used to compare the track times of the Chevrolet Corvette C6 and the TVR Sagaris, and raced Jeremy, in a BMW M5, with a Ferrari F430. In Clarkson: Supercar Showdown, he made an appearance (in a Porsche 911 GT3) to race future host Sabine Schmitz (in an Audi R8) around the Ascari track in Spain to see which was the fastest as well as trying to max a tuned metro. He also appeared in Clarkson: Thriller where he got blown up by try to use a diesel Mercedes with dynamite. He then appeared in 2009's release, Clarkson: Duel, in a tag-team effort alongside Jeremy to compete against their rivals from Fifth Gear, Tiff Needell and Vicki Butler-Henderson. In Clarkson: The Italian Job, the Stig was shown to prove how much faster an Ariel Atom V8 was compared to a Porsche 911 GT3 RS.
White Stig posted the fastest lap time of 1:44.4 around the Top Gear test track for the Star in a Reasonably-Priced Car segment, until his record was beaten by Formula 1 racing driver Rubens Barrichello with a lap time of 1:44:3, Clarkson then occasionally referred to this in his weekly introductions to the Stig until its departure not long thereafter. Following Series 15's conclusion, this White Stig was not 'killed off' like the Black Stig. In the first of the two Christmas Specials for 2010 the presenters simply stated that the Stig was gone, likening their presenting team to that of the band members of Genesis.
Second White Stig (Third Stig)
The New Stig was discovered by Jeremy, Richard and James in Bethlehem as a baby after crossing the Middle East in three roadsters, before being brought home to England following the special's conclusion. When he was old enough to drive (a month, due to the accelerated growth of Stigs), he set the fastest official time on the power lap board using the Ariel Atom 500. Jeremy also showed photographs of the new Stig as a teenager, attending school and protesting against high university fees. Then in the same episode, he taught John Bishop how to drive the Kia Cee'd around the test track. Bishop went on to be the fastest star in a reasonably priced car ever, with a time of 1.42.8, faster than Tom Cruise. This new Stig was first seen in the 2011 Top Gear Live tour. He was originally believed to be bred at the Top Secret Top Gear Farm. It is unknown why this idea was cut from the series, though it is likely to do with the idea of the Middle East Special. As of 2021 it remains the version of The Stig in the show, and has set four successive fastest lap times around the track:
A 1:15.1 in the Ariel Atom 500 V8, which stood from Series 16, Episode 1 until Series 19, Episode 3.
A 1:13.8 in the Pagani Huayra, which stood from Series 19, Episode 3 until Series 23, Episode 2.
A 1:13.7 in the McLaren 675LT, which stood from Series 23, Episode 2 until Series 26, Episode 3.
A 1:13.4 in the Porsche 911 GT2 RS, which has stood from Series 26, Episode 3 until Series 27, Episode 1.
A 1:12.7 in the Ferrari 488 Pista, which has stood from Series 27, Episode 1 until Series 29, Episode 1.
A 1:11.3 in the Ferrari SF90 Stradale which has stood since Series 29, Episode 1.
Cousins
Other Stigs
Female Stig
While "relaxing" in the pool at a private racetrack, twice a bikini-clad woman is seen behind the Stig, wearing a white racing helmet.
Stig Rejects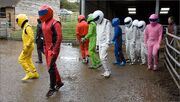 Stigs, bred in a variety of colors, are raised in a free range environment, GM-free, and watched for potential Stig-ness. Most are violent, or completely useless. Some have amazing talent, like painting, and some have only rudimentary car knowledge.
Digital Stig
Introduced on the 28th of March, 2014 as Stig's Digital Cousin. He is featured in the video game Forza Motorsport 5 as part of the Top Gear Car Pack DLC. The gamer tag is "Stigs Digi Cuz" and he drives a 2013 Holden #10 Xbox Racing Team Commodore VF. From April 1st to April 18th, players were given the chance to beat his time in an in game rivals event for physical and digital prizes. The event took place on the Bathurst Circuit at Mount Panorama in Australia with a time to beat of 2:07.473.
Records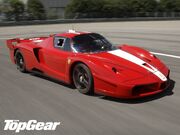 The Stig's fastest official lap time around the Top Gear test track was 1:13.4 in an Porsche 911 GT2. Faster times have been posted in a Renault R24 Formula 1 car (0:59.0), Pagani Zonda R (1:03.5), Lotus T125 (1:03.8), Aston Martin DBR9 (1:08.6) and a Caparo T1 (1:10.6), but none of these were deemed street-practical due to inability to navigate regulation UK speed bumps, or because they cannot be purchased by the public.
Michael Schumacher, dressed in The Stig's racing gear, drove the track in 1:10.7 in a Ferrari FXX. This time was later removed due to the Ferrari FXX using slick tires, and the fact that it was not technically a road car.
Identity
Main article: The Stig's identity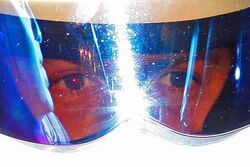 The Stig's true identity is never revealed on the show, and in order to maintain the secrecy, all shots show him wearing full racing overalls and matching Simpson Diamondback helmet. All that can be seen from the gap between The Stig's helmet and jumpsuit is that he is a white male with dark hair. It is also known that he wears Size 9 racing boots as discovered by the Sunday Times and a well-timed camera flash managed to show The Stig's eyes by Auto Trader.
Following Perry McCarthy and Ben Collins outing themselves as the first two incarnations of The Stig, it is strongly believed that the race driver portraying the third and so far, longest lasting incarnation of The Stig since 2010 is Phil Keen. This was due to a faux pas made by presenters Matt LeBlanc and Rory Reid, who both followed the otherwise relative-unknown on their social media accounts. In addition, the identity of Keen was put forth by tabloids as early as the search for Collins' replacement, potentially indicating a leak from within Top Gear.
Keen also worked on the 2015 mockumentary Ben Collins: Stunt Driver, which was centred around the person responsible for The Stig's prior incarnation finding the perfect stunt car.
Music style
An audio gag from the first episode of the show is that The Stig has no personal preference when it comes to music, which he listens to during Power Laps around the Top Gear track. Often a specific genre will be chosen for one or more series. These have included power ballads, one-hit wonders, easy listening, country and western, prog rock, baroque, advertising jingles, foreign language tapes, romantic novels, salesman techniques, self-help tapes, Morse code, bagpipes, vuvuzelas (with Jeremy commenting "He must be the only man in the country who likes them"), and the BBC Radio 4 drama series The Archers.
Introductions
Main article: The Stig/Introductions
The hosts of the show will often introduce footage of The Stig by offering humorous speculations as to his identity, beginning with the words "Some say...", with these introductions often including references to topical news stories. Previously, Stig's name would be used in more formal introductions, such as "His Holiness, The Stig!".
Community content is available under
CC-BY-SA
unless otherwise noted.