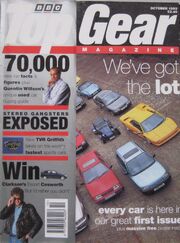 Top Gear is the name of a magazine published by BBC Worldwide since October 1993. At its peak in 2007, the magazine sold 200,000 copies each month, although 5 years later this had reduced to 150,000.
Many foreign versions of the magazine containing entirely different segments to the original UK version have also been published, with the first of these, the Philippines edition, debuting in 2004 and featuring Jeremy Clarkson writing his own unique contributions. Although this version was discontinued in 2018, many other countries produce their own versions of the magazine, often carrying the UK version translated as an alternative.
In 2001, an exclusive spin-off centred around supercars, imaginatively titled Top Gear Supercars, was released that summer. Eighteen further issues have been released since.
For a list of issues, please visit Top Gear Magazine/List of issues.
Editors
Since 1993, the magazine has had four main editors:
Kevin Blick: The first editor-in-chief, overseeing issues #1 through #116.
Michael Harvey: The second editor-in-chief, overseeing issues #117 through #190.
Conor McNicholas: Third editor-in-chief, overseeing issues #197 through #206, leaving after just 10 issues.
Charlie Turner: Acting editor-in-chief for issues #191 through #196, fourth editor-in-chief since issue #207.
Contributors
Over the years, there have been many contributors to the magazine, including on-screen personalities both before and after they appeared on either televised incarnation of Top Gear.
Versions
Top Gear has been localized for the following markets: