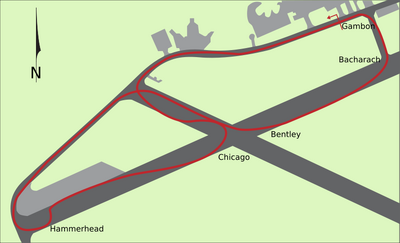 The Top Gear test track is the test track used by the British automotive television program Top Gear. Located in Dunsfold Park, it was designed by Lotus engineers and is used to both test cars seen on the program and in two segments of the show (Power laps and Star in a Reasonably-Priced car). The course is just under 2 miles (3.2 km) in length and is a rough figure of 8 layout.
A digital version of the track has been released for the video game rFactor and has also appeared in Gran Turismo 5 (PS3) and Forza Motorsport 4 (Xbox).
The track is a rough "figure of 8" layout, and is located in Dunsfold Park in Surrey, England. It was a World War II airbase and British Aerospace manufacturing and test facility. The track has a "road" course, and a drag strip, although this is never used for timing purposes. Designed by Lotus, the layout of the track is designed to put the car through various conditions, ranging from provoking under-steer to testing brake balance and tires. It is about 1.75 miles (2.82 km) in length, and the track is considered to be an equalizer for cars, since both 0-60mph (0-100kph) times and top speed are totally meaningless to the program according to Richard Hammond. The length of the straight is 1.76 miles long.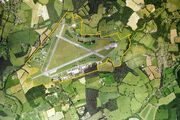 The start and finish of the track are both placed on the same spot. The drive starts off with a very slight curve, followed by a large and fast left curve into a service road called "Crooner Curves", followed quickly by "Chicago", a long right-hand curve around a tire wall.
Hammerhead
Edit
After Chicago, there are three short curves, called "Hammerhead", after which comes a long straight, ending with a right-hand curve, "Follo w-Through" at the same area where the Chicago had begun. After the left-hand curve near "Chicago", comes the "Bentley", and a long straight.
Closing up on Gambon
Edit
The Bentley straight is followed by a left-hand curve called the "Bacharach", shortly followed by the final curve, the Gambon, sta nding just meters away from the start and finish line.
Naming of Gambon
Edit
The Gambon was named after Michael Gambon, a Top Gear guest, who, as a Star in a Reasonably-Priced car, almost rolled the Suzuki Liana. Regardless of his notability in the show, Gambon only achieved a time of 1:55.0, putting him in 54th place in the final Liana chart. Prior to this, it was called the "Carpenter's Corner".
External links
Edit