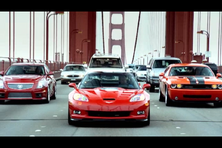 The USA Muscle Car Road Trip, in which the presenters rode to Bonneville, aired as part of Season 12 Episode 2. Richard Hammond, James May and Jeremy Clarkson were only allowed in USA for factual filming due to an incident in their last visit when Jeremy placed a cow on his car roof.
Cars
Richard drives a Dodge Challenger, James drives a Cadillac CTS-V, Jeremy drives a Chevrolet Corvette C6 ZR1
But a few days earlier, Chrysler, who makes Dodge Challengers refused to lend Richard one so he had to buy one himself.
Trip
The team were only allowed in America to do the factual documentary, due to a previous incident. Prior to leaving San Francisco, Richard had to buy a Dodge Challenger after he was refused one to be lent to him and they soon take off and James starts getting annoying, talking about his car and doesn't even enjoy the local music on the radio. Later that night, they stopped in Reno where James drove straight to a casino, ditched his car in the driveway and tries to win a BRP Can-Am Spyder Roadster. Meanwhile, Jeremy and Richard decided to race between the lights, set off some car alarms with their engines and tried to speed away, but are caught by police and Jeremy tries to lie his way out. After being warned by police, they went to the casino and found James, playing the slots and is being advised by some locals. The two decide to turn in and leave James with his new 'best' friends and try to guess his name. James had been at the slots all night and couldn't win the trike and was forced to drive the Cadillac again. They drove down a very long highway and soon end up in a town where they decide to have breakfast. While James and Richard were eating breakfast, Jeremy steals the latter's car and reparks it in the middle of the road and went inside to eat with them. After breakfast, Richard notices his car was moved and insists that he didn't leave it in the road as he has the key and was forced to move it so there would be no accidents. As they drove on around curved roads, James soon starts liking his car and at dusk, the police pulled them over just to make sure they are being factual and left them alone. The next morning after spending the night in a Winnebago they rented the night before, Jeremy explained the Bonneville Salt Flats and was keen to become a speed freak and woke up very early and decided to practice by driving about in the Winnebago, rudely waking Richard and ruining James' business in the loo. At 9:00 the event started and the team purchased hats to blend in and are being lectured by a safety driver. (to be continued)
Gallery
Community content is available under
CC-BY-SA
unless otherwise noted.