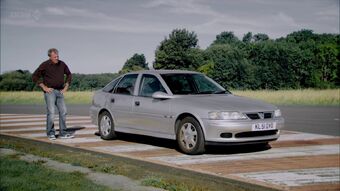 What was perhaps original format Top Gear's most controversial segment aired in September 1995 as part of the second episode of Series 34. By this point, Top Gear was long-established as an opinionated and occasionally controversial show that every so often gave an unfavourable opinion of a new car, but when it came to the release of the second generation Vauxhall Vectra, a car that GM had billed as a "car for the millennium" and had spent thousands of man hours and millions of dollars on its development, Clarkson took the show to extremes it had never gone before.
Incident
The segment opened much like any other car review, with a transition animation, but from the first second something was clearly up. Leaning against the body of the Vectra and speaking into a mobile phone, Clarkson appears to be arguing with the producers of the show, and that he needs to present a 6 minute segment with the car, much to Clarkson's protestations. Tapping his fingernails against the C-Pillar, a clearly disrespectful gesture that angered GM to no end, Clarkson eventually relents and takes the Vectra for a drive, wherein he frequently strays off the topic of the car onto other things, such as britpop sensation Supergrass' drummer being the son of a certain Chris Goffey, or the atomic clock being 2 minutes slow. The segment ended with the average viewer knowing little more about the car in question than they did prior to the segment.
Reaction
Due to his influence on the car-buying public even as early as the 1990s, Clarkson was blamed for the low early sales of the Vectra, the Cavalier's replacement, and the eventual closure of the Luton plant. The relationship between General Motors and Top Gear was strained, but no real action was taken and GM products continued to be reviewed on the show.
Community content is available under
CC-BY-SA
unless otherwise noted.